14.11.2018
Looking back on one of the first large-scale, all-IP installations

By Costas Colombus, director of technology projects and support, BCE
Located in Luxembourg, Broadcasting Center Europe (BCE) is a major European provider of technical services in the fields of TV, radio, telecommunications, and IT. BCE's more than 200 highly qualified and motivated people serve about 400 clients in various sectors of the audio/video market — such as TV channels, radio stations, film distributors, producers, advertising companies, telecommunications operators, and public services. BCE services cover six main areas of expertise: broadcasting; engineering and consulting; digitisation; system, telecom, and network solutions; production and post production; and transmissions.
My department covers maintenance and support. Electronic engineers maintain all equipment related to TV and radio, while supervisors and system administrators support BCE's entire range of services — from playout to storage to the edit suites and beyond.
Around 2013, BCE broke ground on a new facility, designed to be at the leading edge of broadcast technology. The new building gave us the opportunity to transition away from SDI-based workflows and make the move to an all-IP infrastructure for transporting audio, video, and data signals throughout the facility. It was an idea that was ahead of its time — IP was still in the gestational stages back then, and there were no final standards yet.
It was a decision we didn't make lightly. We spent three years looking at alternatives and evaluating technologies. By 2016, we could deliberate no longer. We had to decide between sticking with SDI or going to IP. It was clear to us that sending signals over internet protocol rather than cables would be the key to a more efficient, more versatile workflow, so we took the risk on IP, banking on the idea that whatever we did would be compatible with any future standards.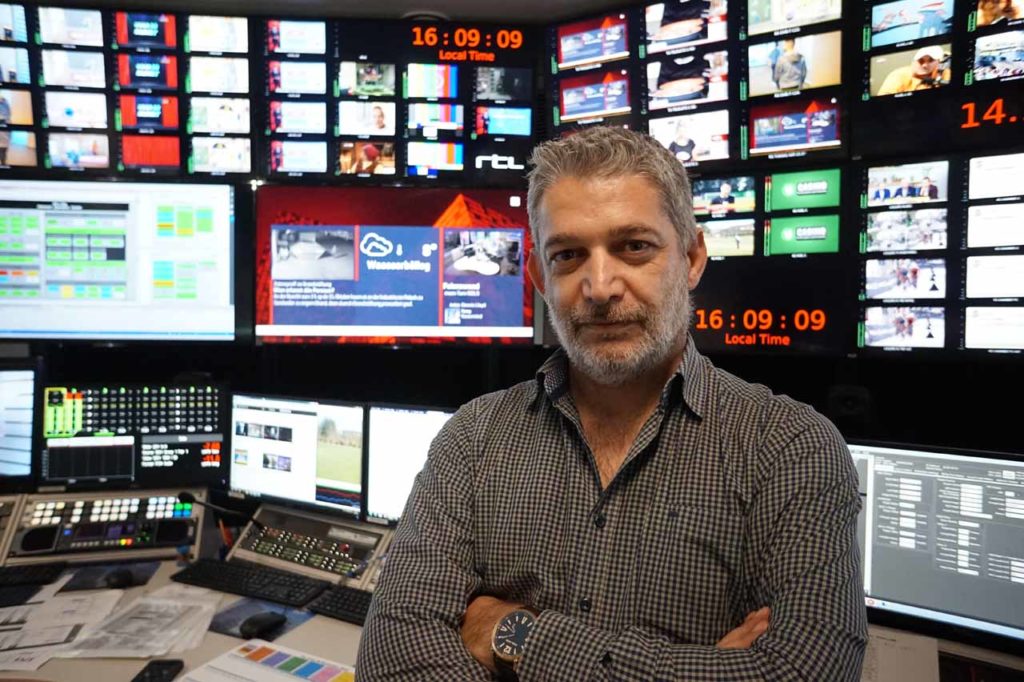 Costas Colombus, Director of technology projects and support, BCE.
"It was clear to us that sending signals over IP rather than cables would be the key to a more efficient, more versatile workflow."
The Biggest Challenge
Because IP signal transport was so new at the time, and ours was one of the industry's first all-IP installation projects on such a massive scale, one of our biggest challenges was the lack of IP expertise in the market. Before we could even start the installation, we had to invent ways to implement it, do our own proofs of concept, try different configurations, and go back to the drawing board when something didn't work. Essentially, we had to figure it out as we went along.
Overcoming The Challenge
Starting from the ground up required a completely new design. We took advantage of our in-house expertise in system design and integration — a service we provide to our own clients — to come up with an ambitious list of criteria for the new infrastructure. It had to be:
Innovative
Format-agnostic and future-proof (able to handle 1080p, 4K, and beyond)
Flexible and scalable
Redundant for maximum reliability
Multivendor
Money-saving (save on cost of cabling and installation)
Besides meeting those six key requirements immediately, we also wanted a system that would reduce complexity and run on commercial off-the-shelf (COTS) equipment in the long run.
Equipment Decisions
In short, we wanted to be able to improvise our workflows and connectivity to suit any client's needs well into the future and do so at minimum cost and complexity. Every design decision and equipment choice was made with those criteria in mind. We opted for best-of- breed gear that could connect in an IP world and still provide us a complete workflow for our router size and audio considerations.
For example, rather than investing in new SDI equipment, we focused on purchasing IP-ready gear whenever possible. In instances where IP-compliant or IP-connected gear was not available (as was sometimes the case at the time of installation), we kept our working SDI equipment from the old building and interfaced it to the IP world through gateways. We intend to replace the old SDI gear with IP- compliant devices as they become available. By focusing on the cutting edge instead of investing in old SDI technology, we were able to build a more flexible workflow with flexible connectivity, which helped control costs, future-proof the operation, and protect our investment well into the future.
Today, IP-connected equipment from multiple vendors spans BCE's entire broadcast operation, ensuring we can send signals over IP in every part of the workflow without being beholden to a single manufacturer. The key components are network switches and optics, audio and video gateways, multiviewers, an audio shuffler, a routing controller, a vision mixer, servers, encoders, cameras, audio mixers and routing, an SPG/PTP generator, a PTP master clock, and test and measurement equipment.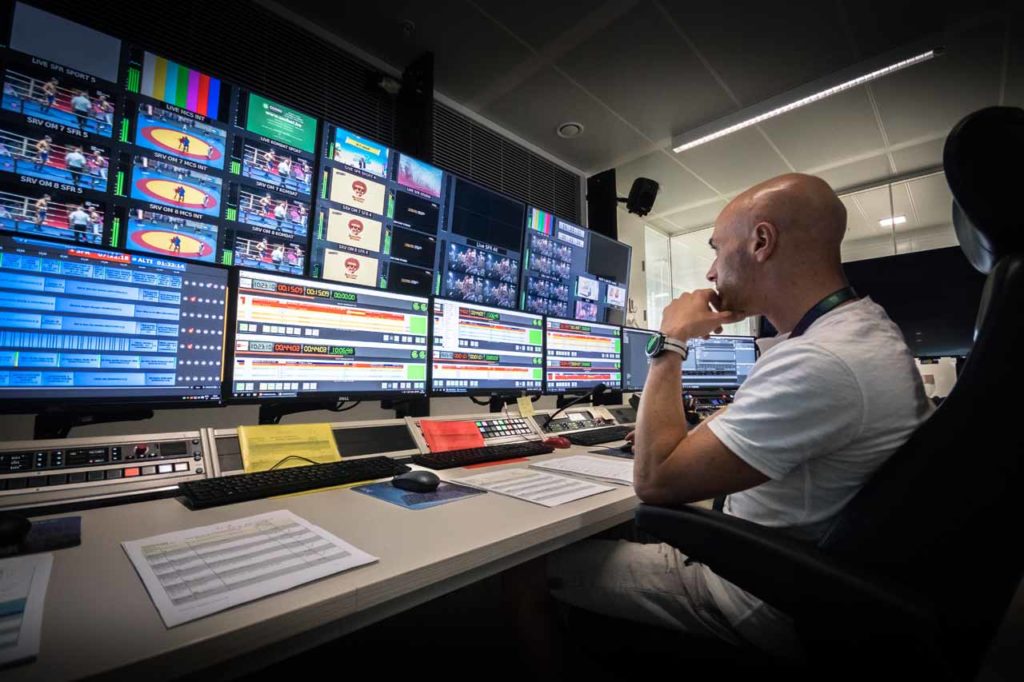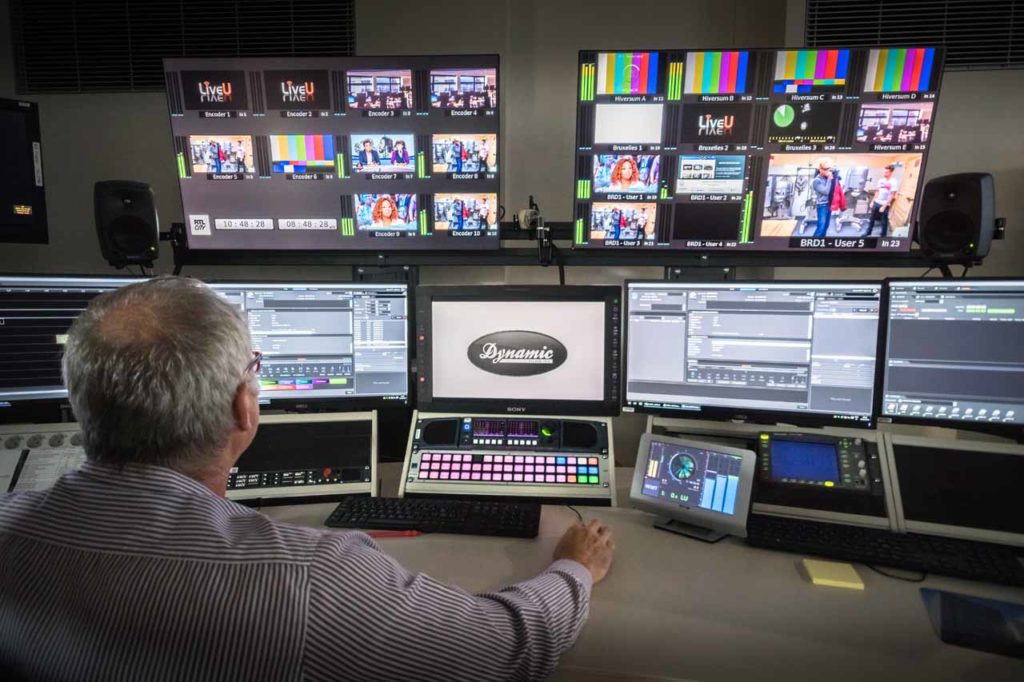 Final Implementation: Mission Accomplished
After years of research and planning, our IP infrastructure went on the air in 2017, and I'm happy to say that through all the trial and error, BCE accomplished its immediate goals and even made strides toward the long term.
Most importantly, we are far more flexible than we have been in the past, so we can easily deliver more channels in less time and accommodate last-minute requests from clients at the push of a button. For example, we initially designed the new facility to accommodate 35 television channels in different versions and various radio stations. As we were moving into the new facility and preparing to go live, a client needed to add six more channels, one of which was 4K.
In the past, such a request would have required new cabling and a lot of evolution inside the machine room, but in our new IP workflow, we have the connectivity to fulfill such requests with no infrastructure changes whatsoever. It's simply a matter of configuring the software to get the right files to the right servers, activating the 4K out, and transmitting the 4K signal over fibre. The same could be done with Ultra HD when the time comes.
The increase in BCE's router size is a perfect illustration of the power of IP. In early June 2017, when the IP router went live, the video capacity was 964 x 1496. Less than two weeks later, capacity had increased to 1016 x 1540. By June 2018, the video capacity was up to 1036 x 1584, and the audio level was 1180 x 1728. That's a 72 x 88 increase in video capacity with only software configuration and equipment connection.
Now, our ability to add channels and formats is only limited by the capacity of the switch. That means we can upgrade services and get clients more output more quickly, and our engineers can say "yes" to requests they would have had to turn down before.
Just because we did what we set out to do in the beginning doesn't mean we're finished. As the industry makes greater strides toward all-IP workflows, our infrastructure evolves along with it. For example, when our project began, many IP-related standards weren't ready yet, but today BCE applies SMPTE ST 2022-6/7 for SDI over IP, AES67 for audio over IP, Dante, PTP v2 (IEEE 1588), PTP v1 for Dante, and VSF TR-04 in various client workflows. Software upgrades will unlock future standards as they become available, such as the recently ratified SMPTE ST 2110 family of standards.
We're also evaluating new equipment all the time in keeping with our desire to eliminate SDI gear, and we maintain a permanent, state- of-the-art, real-life proof of concept installation for the sole purpose of validating that equipment.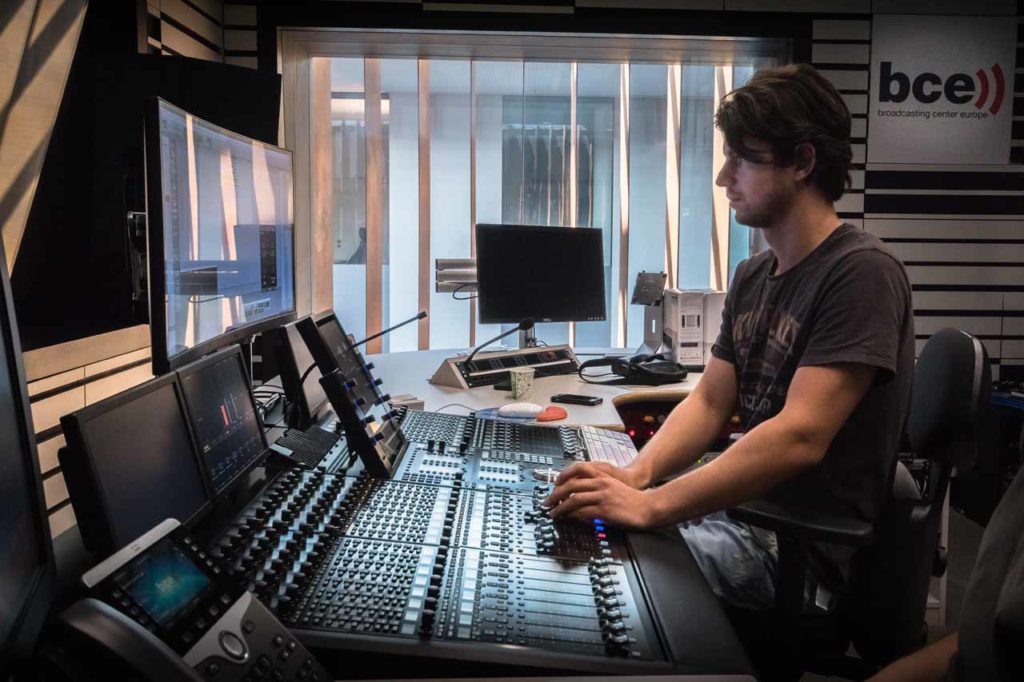 Lessons Learned
The industry's general lack of understanding about IP back in the early years of our project meant we couldn't look to others for best practices in building an all-IP infrastructure. That challenge might have made for a long journey to this point, but we're better for it, because we amassed critical knowledge and learned valuable lessons along the way — lessons we're happy to share.
As you embark on the transition to IP in your own facility, here are some things to keep in mind: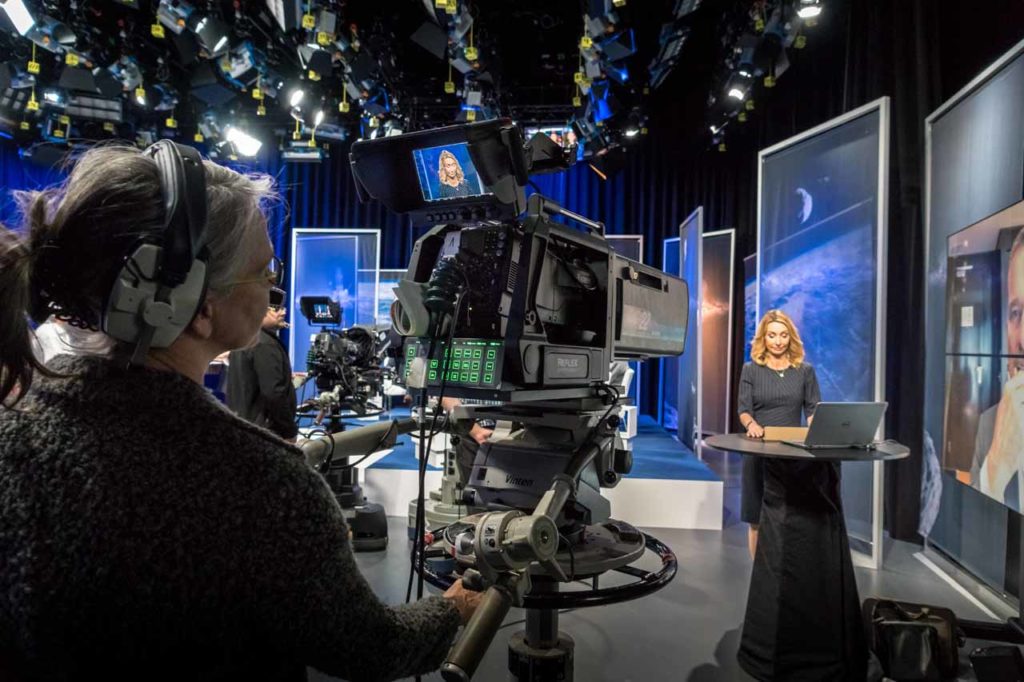 Educate the broadcast engineers. Because IP signal transport is a new area that's continually evolving, broadcast engineers need to adapt their skill sets accordingly. BCE organises massive trainings in IP technologies to make it easier for engineers to handle support and maintenance.
Allow plenty of time for design. Do not underestimate the complexity of the project. New emerging specifications will help, but the design period is important for success.
Monitoring solutions did not really exist for fully analysing all components.
Clean switching is not mandatory for most signals.
Using two different vendors for dual central switches helps ensure hardware and/or software redundancy.
Test the inbound control layer using Packet Storm or any other feasible method.
For the best PTP distribution performance and scalability, consider using PTP-aware switches. Originally, we had serious limitations in implementing a PTP distribution with PTP-unaware switches.
Validate the fibre connectivity and QSFP quality. Poor-quality fibres, dust, and environmental factors can cause problems, so it's best to ensure clean fiber connectivity.
To future-proof the system, ensure the IP edge devices comply with specifications or recommendations.
Conclusion
If you remember earlier, I said one of our criteria was to make the infrastructure innovative. We met that goal with no question. The very act of not only installing and operating cutting-edge IP- connected equipment, but teaching ourselves how to do so, was about as innovative as it gets. I'm proud to say that's one of the reasons BCE has come to be known as a pioneer of the IP media world.