02.07.2020
The Ministry of Agriculture selects BCE Live Streaming services

BCE has been selected to live stream the webinar "20% Biolandwirtschaft 2025" from Luxembourg's Ministry of Agriculture, Viticulture and Rural Development.
The national action plan to promote organic farming aims to reach 20% of Luxembourg's agricultural land exploited in organic farming by 2025.
BCE will be on site with a film crew to cover the 2 hours webinar. Filmed in High Definition (HD), the Live Streaming will be online on a page created by BCE teams specifically for this event.
A "chat" will also be available to allow visitors to ask their questions; On the client side, a Dashboard with a moderation system will allow to select/approve questions and comments.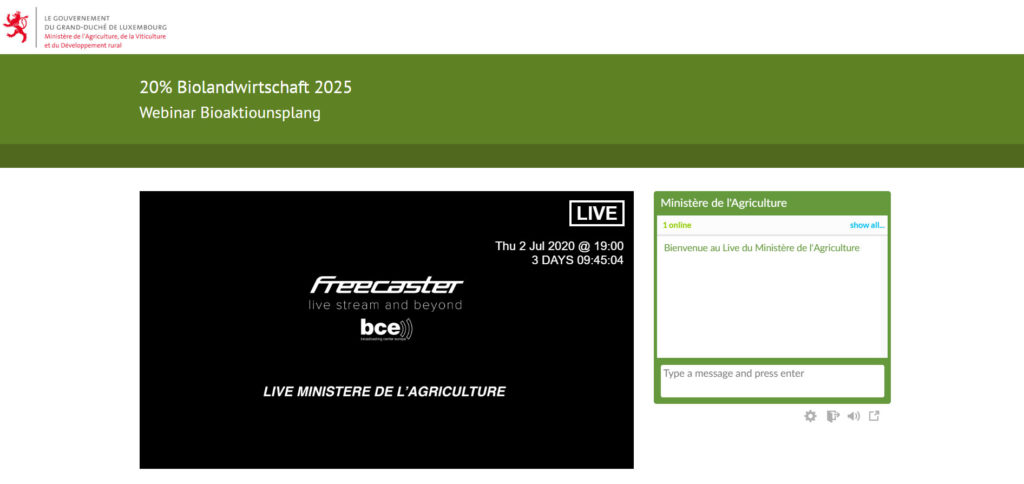 "BCE confirms its position as a leading media company with its multi-expertise covering all the needs of this type of services, namely live streaming, with a proven platform, its services and production teams, its IT teams which can quickly create pages for each event and its many modules such as HD broadcasting or the implementation of live chat systems" concluded Xavier Thillen Head Of Production and Digital Media Operations at BCE.